PhDr. Martin Svatoš CSc.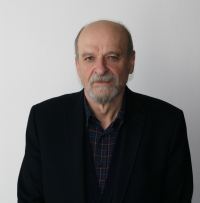 svatos@ics.cas.cz, martinsvatos@volny.cz
+420 234 612 313

Department of Neo-Latin Studies
senior scholar
ASEP
Bibliography
Research focus
He made a study of the history of modern Czech Classical philology and the social function of humanist instruction. He has published books articles dealing with the reception and tradition of Antique civilization in the Czech and European culture. He has also devoted himself to translations of Neo-Latin literature, especially of Czech origin.
His actual research concerns the problems of Neo-Latin literature in Bohemia and Moravia in the early modern period, primarily the Baroque historiography and hagiography, some literary types (drama, elogia) and rhetoric, history of learning, as well as the relations between Latin and Czech literature in Bohemia. 
Education
1970-78   Philosophical Faculty of Charles University in Prague, Latin language and literature   French language and literature   ancient Greek language and literature.
1979 - gained a doctoral degree at the Charles University
1991 gained a scientific degree CSc. Thesis "The Constituation of Modern Czech Classical Philology at the Prague University (The Activities of Jan Kvíčala and Josef  Král)".
Employment history
Since 2004 - employed as senior scholar in the Center for Classical Studies of the Institute of Philosophy, Academy of Sciences of the Czech Republic
2001 - vice-director of the Institute for Classical Studies
1998-2000 - director of the Institute for Classical Studies
Since 1990 - employed as a specialist in the Institute for Classical Studies, Academy of Sciences of the Czech Republic as a specialist