Mgr. Vojtěch Pelc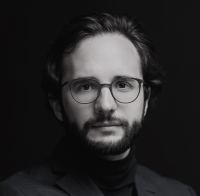 pelc@ics.cas.cz
+420 234 612 313

Department of Neo-Latin Studies
doctoral candidate
ASEP
Bibliography
Research focus
Latin humanistic literature; textual strategies of the confessional polemics; multilingualism of the early-modern literature in Bohemian Lands
Education
2019- Charles University, Faculty of Arts (PhD, field of study: Medieval Latin and Neo-Latin Studies)
2016– Charles University, Faculty of Arts (MA, field of study: Czech linguistics and literature – Latin linguistics and literature, MA thesis: Textual Strategies of Argument in the Confessional Polemic of Racek Dubravius)
2012–16 FF UK (BA., field of study: Czech linguistics and literature – Latin linguistics and literature, BA thesis: Protreptikon ad scholam Neudorfinam by Johannes Campanus and Its Place in the Context of the Early Modern Apologies of the Czech Language)
Employment history
from 1/2017 Centre for Classical Studies at the Institute of Philosophy of the Czech Academy of Sciences
Grants
2020–2023 Czech Science Foundation grant, The university of Basel and Bohemian Lands (1460–1630) (head researcher prof. PhDr. Martin Holý, Ph.D.); co-researcher
2019-2021 Czech Science Foundation grant, Karel Škréta and Thesis Prints in Bohemia (head researcher PhDr. Petra Zelenková, Ph.D.); co-researcher
2018-2020 Czech Science Foundation grant, The New Testament of 1601: the peak of the Czech Brethen´s biblical work (head researcher PhDr. Robert Dittmann, PhD.); co-researcher
2017–2018 Charles Univerity, Faculty of Arts grant (FF/VG/2017/73): An Edition and Translation of the Humanistic Descriptions of the City of Prague by J. Hubecius and B. Martinides (with an introductory study); a head researcher
2016–2018 Czech Science Foundation grant, Forms of Humanism in Literatur of the Bohemian Lands, 1469–1622,  (head researcher PhDr. Lucie Storchová, Ph.D.): entries Jan Kherner, Jan Opsimates, Mikuláš Paulinus, Jakub Žabonius, Mikuláš Troilus, Jan Hubecius, Bartoloměj Martinides, Bohuslav Jičínský, Bohuslav Bavor z Kosmačova, Adam Jeníkovský, Pavel Sabatenus; co-researcher
2016–2018 Czech Science Foundation grant, An Analysis of calques in Czech and Sorbian languages (head researcher Katja Brankatschk, Ph.D.); co-researcher
2012–2015 Czech Science Foundation grant, Preparation and Publication of the Inventory of the 17th and 18th Century Manuscripts from the Museum Collections in Bohemia III, P–Š (head researcher Mgr. Alena A. Fidlerová, Ph.D.); co-researcher
Fellowships and research stays
from 9/2017 Faculty of Arts, KU Leuven; exchange scholarship
Conference papers and lectures in the Czech Republic
4/2018 Student literary conference of the Institute of Czech Literature of the CAS: paper Humanists´ descriptions of Prague – a genre between a documentary source and a literary text
3/2016 workshop Praha-Roma-Rostocium (Institute of Greek and Latin studies of the Charles´ University Faculty of Arts): paper Excidium uti memoria et laus: Three poems about the conflagration of Prague 
4/2015 Student conference of the Institute of Latin language and culture, Faculty of Arts of the University of Ostrava: paper Protreptikon ad Scholam Neudorfinam by Johannes Campanus and Its Place in the Context of the Early Modern Apologies of the Czech Language)
Current projects
Johann Peter Cerroni and Historia Litteraria of His Era – co-working on the edition, translation, and commentary of selected entries of Cerroni´s work Scriptores Regni Bohemiae.
An edition and translation of the humanistic descriptions of the city of Prague by Bartoloměj Martinides and Jan Hubecius.
PhD research on multilingualism in the early-modern Bohemian Lands.