prof. PhDr. Pavel Spunar CSc.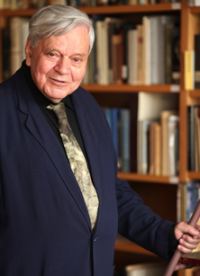 spunar@ics.cas.cz
+420 234 612 321

Department of Neo-Latin Studies
emeritus scholar
ASEP
Bibliography
Research focus
literary mediaevistics; history of Medieval culture; paleography; codicology
Education
After graduation in 1947, he studied musicology, art history, auxiliary historical sciences and philosophy at the Faculty of Arts, Charles University in Prague. At the same time, he attended the librarian courses at the Faculty of Arts and passed the final exams in 1949. He was awarded doctorate in 1952 (the title of dissertation: The Czech Bastarda). He was shortly an employee of the Museum of the Czech Literature (1952) but since 1. 1. 1953 he has been working at the Czech Academy of Sciences in Prague: first in the Department of philological documentation, since 1954 in the Institute of Czech Literature, since 1962 in the Department of Greek, Roman and Latin, since 1990 in the Institute for Classical Studies that was renamed Centre for the Classical Studies at the Institute of Philosophy in 2004.
In 1969 he was awarded the second doctorate (CSc.), based on his dissertation The New Facts on the Genesis of Kodex Vyšehradský and Related Manuscripts. After 1989, he started to teach at the universities, he received habilitation in 1992 at the Masarky University in Brno in the field of history and theory of culture and a full professorship in 1995. In 1996, he was elected member of the Learned Society of the Czech Republic. He is a member of many international professional organizations such as Comité internationale de paléographie latine (Paris), Comité international du vocabulaire des institutions et de la Communication intellectuelle au Moyen Age (Den Haag) or Union académique internationale (Bruxelles).
His professional bibliography comprises more than 800 items.